This page started on 16 October 1998. The site is changing daily, so keep coming back.
Web Magic Awardee

Adjust your monitor


---
---
OK, I fess up: After 33 years, I decided it's time to quit smoking. I found this site very helpful. If you want to quit, take a look at it!
---
---
Did you know:
The popular DIRECTV Satellite System is marketed by resellers, not by DIRECTV. Each reseller sets its own prices.
The online DIRECTV e-Store offers DIRECTV systems for less, while still providing the same programming options as any local reseller.
---
Discount PC Warehouse
This online warehouse carries the top 1,000 technology products sold worldwide. Their prices are quite reasonable: I bought a 17" NEC monitor from them for only $200. They accept credit cards, checks, even PayPal! They ship internationally.
---

Information about software piracy

No FUD


Visas, Immigration, US Citizenship

Web Links : Links to web publishing resources.
---
Random Thoughts
---
Secret
---
Awards Received
---
Download this font
---
Number of visitors TODAY
2023-06-06
Last updated:
20 December 2002

Wild West?
Apparently, the Internet is going through its Wild West period. How else could hard working netizens be subject to superhighway robbery? But that is exactly what happens all the time, and that is what happened to Whiz Kid Technomagic.
This web site has been a work of love of one person. I only created this web site to help others, to teach others, to promote the best of use of the Internet. I have done so for many years, paid for it from my own pocket, never asking for anything in return.
Recently, unfortunately, I have been very ill. I have diabetes, which has robbed me of much of my energy. Worse, in July of 2002 I was so ill I had to go to the emergency room. I was immediately admitted to the hospital. I was in the danger of losing my life. Thanks to the work of my doctors, I only lost my toe in an amputation.
I spent several months recovering. During that period I was completely unable to work on my Internet sites. Unfortunately, the domain I created for Whiz Kid Technomagic -- whizkidtech.net -- expired while I was recovering. As soon as that happened, someone quickly registered it.
So, sadly, the Internet has turned into the Wild West. You work hard, sacrifice your own resources, then someone takes advantage of your poor health in the hope of making a quick buck off you. So, if you have wondered how come Whiz Kid Technomagic's good name is being used for some sinister purposes by some robber, now you know why.
---
Ever wondered what would happened if stupidity were outlawed? I gave the idea considerable thought and finally decided it would not solve any problems but it would cause many new ones.
And since nothing is more succint than an idea placed on a T-shirt, I designed a T-shirt that says what would happen if stupidity were outlawed.
Statistics have shown many times over that children whose parents are involved in their education outperform children whose parents do not get involved.
Whether the parents decide to home school their children entirely or send them to school but work with them on their school work every day, their student children have a great advantage because they are taught by the world's best teacher: their dad and/or their mom.
If your parents have helped you by getting involved in your own education, why not let the whole world know that they have made a difference by giving them a World's Best Home School Teacher T-shirt.
It is official, we are in a recession. You may want to read The Time Travel Report on the ways to not only survive recession but to use it to get ahead.
Finding a good domain name is becoming a serious challenge. The Domain Twist is a good tool which will take your words, combine them with the most popular words used on the Internet, and check for their availability.
It will even let you register the result for only $12.95. Or, you can renew an existing domain for the same price, even if it was originally registered with another registrar.
People often confuse riches with wealth. My article Riches vs. Wealth explains the difference.
My free Phone Cowboy software has become so popular I had to start a separate web site for it.
Go ahead, visit it, and download your own copy. As usual, it is tiny but powerful.
I wrote this software because I am sick and tired of the major long distance companies constantly interrupting my work with their solicitations. This software lets me search the web and compare the rates charged by various long distance companies in an instant. Armed with the result I can tell the telemarketers the truth about their lies.
---
This site has grown very large over the years. To make it easier on you, you are now invited to subscribe to The Whizzine, with new information delivered directly into your mailbox.
Subscribe to The Whizzine and you will become an Internet expert in no time. To start with, a free special report will arrive directly to your mailbox as soon as you subscribe. This report will show you how you can optimize the organization of your own web site to make it more manageable.
Then, week after week, you will receive a copy of The Whizzine packed with information you cannot find anywhere else unless you are willing to part with thousands of dollars and spend years of your life learning new things. The Whizzine gives you all this for free.
The information in The Whizzine is based on my own years of personal experience managing not just this site, but several others. And on decades of computing experience. Ah, yes, I got an early start way back in 1965!
To receive your own copy of my report and to start your subscription, simply enter your email address in this little form:
But, don't just take my word for it: You can read all issues of The Whizzine already published in the The Whizzine archive.
Resources for Webmasters
If you are a webmaster, you need to address two main types of concerns:
Technical aspects of running a web site. These include, among others:

Finding the right software tools for the creation of web sites that people will want to visit.
The creation of dynamic web content.

Financial aspects. Gone are the days when most web sites existed solely for the purpose of fun. Money has become a serious concern.

This is true whether you just want to recover the costs of running your web site, or you want to use the web as a tool of running a business and make it your substantial source of income.
As it turns out, many of these concerns are intermingled. You cannot deal with financial aspects without resolving the technical problems. And you cannot concentrate on the purely technical without financial concerns.
I had to deal with both aspects for many years. Even before the web explosion of the recent years, I was running a BBS. Back in those days (gosh, that makes me feel so old) the Internet was accessible only to two groups of people: The military and the academia.
The rest of us had to find alternative solutions. We had to hook up a computer to a phone line. If anyone wanted to visit a BBS, he had to dial in directly. That made a typical BBS local in nature—not too many people could afford browsing from one BBS to another because it would involve making long distance phone calls.
Running a BBS was challenging both technically and financially.
In the late 1980's I was personally involved in the development of software that made BBS communications possible. For example, I created a protocol called Avatar that made it possible for a BBS to use colors and to divide the screen into windows (not to be confused with Windows which was of little consequence back then). For a while I also headed the worldwide team of programmers working on the development of the then most popular BBS software called Opus.
That was the technical challenge. The financial challenge was its direct consequence. It was expensive, and I had to pay for it all from my own pocket with no way of recovering my costs.
Then came the world-wide web revolution. And what a revolution it has been! It has reshaped the way we communicate. It has made many resources accessible at the click of the mouse or the press of a key. It has made computer communications affordable to almost everyone.
It has solved many problems. And it has introduced many new ones. For example, in the olden days each BBS had a faithful following: People kept coming back day after day, night after night. Nowadays, your web site is one of many. Thousands, millions, who knows how many. All equally accessible by anyone. All competing with each other.
But, as my zen-master says, for every problem there are at least three solutions. The tricky part is finding them. Every day witnesses the creation of new web sites. Each new webmaster faces the same problems: The problems of creating a nice web site. And the problems of attracting visitors. A web site does you no good if no one knows about it. A web site does you no good if no one ever visits it. And a web site does you no good if those who find and visit it never come back.
Again, in the olden days, the sysops (which is what the predecessors of webmasters were called) were able to communicate with each other. There weren't that many of us, perhaps couple thousand altogether. We did not feel we were competing with each other. We were willing to help each other. We were willing to share our experience with others.
This is no longer the case. Most new webmasters feel lost. They do not know what they are doing. Heck, I'll say it clear: Most webmasters are lost, even if they are not new. And those who do know what they are doing are often not telling others. Because now we are competing with each other. Or we think we are.
In reality, we are not in competition. There is room for all of us. I am a firm believer in the truth that helping others helps myself. By showing you how you can become a successful webmaster, my own web success will grow, not diminish. After all, teaching is the best way to learn.
And I am not the only one who feels this way. Helpful resources abound. So do wasteful resources, unfortunately. All through these years I have been sifting through them, and still do (after all, new resources come, old ones disappear). On this web site I will give you some of my own resources, and direct you to many others.
When I first started this web site, I listed as many resources as I could find. This is no longer the case. I realized that just dumping a list of resources is not too helpful. There is only so much time you have. Why would you have to go through it all? I now only list those resources that I find the most helpful and the most useful. Do not be surprised if many of the links you'll find here consistently lead to different pages on just a handful of web sites. That is because those who are good at what they do tend to create many good pages.
Finding the Right Host
Unlike in the days of the BBS, most of us no longer hook up our own computer to the Internet full time. Not that we could not. But doing so is usually not cost effective.
Back then, communications were one on one. You used a high speed modem (which at the time meant 2400 bps). The caller may have had a 2400 bps modem or a 1200 bps modem. At any one time only one caller could be connected, so all data travelled fast.
Today, any number of users can be accessing your web pages at the same time. Even if you used a high speed modem, its speed would be divided by the number of people logged in at the same time. So, if you used a 56 Kbps modem, and a hundred people were accessing your pages, they each would be receiving the data at only 560 bps! Not to mention your computer would be running 100 separate processes, so you would need a fast processor and lots of memory.
That is why you need a host. A host uses fast and powerful computers. A host is connected to the Internet through a fast line, such as T1. Or even many such lines. This is expensive. But because you share the same host with others, you split the costs with them. You can host for as little as about $8/month.
Free hosts exist, too. My first web site was (and still is) hosted by geocities. The problem is, they are not really free. The host will add advertising to your pages. You will share the line with thousands of others, so it will be slow. And you will have no CGI capabilities.
Personally, I host my sites with pair Networks. Their prices are very reasonable. They have been in business for several years, and continually improve their services. They run all their servers using the FreeBSD operating system, which is the best variety of Unix. The list of their customers reads like Who's Who of the Internet.
Being Your Own Host
That said, it is certainly possible to run your web site from home or office. You need a good and fast computer. (TIP: You can get a good computer for a very reasonable price from Electronics Cowboy.)
You need a decent operating system—for that I recommend FreeBSD.
You also need a good web server, such as the popular Apache server.
Last but not least, you need a fast connection to the Internet. With the new Digital Subscriber Line this has become affordable once again.
Creating Dynamic Pages
It is often necessary to create web pages dynamically. That is to say, instead of creating an HTML file, you (or someone else) write a program that creates the web page every time someone visits.
This allows you to personalize the page, or have a different page depending on the time of the day, or the date, or the language the visitor understands best.
I wrote a tutorial which shows you how to do just that.
I also created Graphic Counter Language which lets you create web counters, both graphical and textual, using CGI.
Your Own Domain
If you want to be taken seriously on the web, you need your own domain. It is also much easier for someone to remember a short catchy domain name than a long URL.
Take, for example, the phone services search engine. Suppose it were located at something like www.totallyfreewebpages.com/users2/ricky/phones.html (a made-up address). Would you remember it? Would you take it seriously? Would you even go there?
Now suppose, it is called Phone Cowboy and it is located at PhoneCowboy.com. Wouldn't it be easier to remember? (This, indeed, is the real name and address of that search engine.)
An easy-to-remember domain name is something you can invite your friends to visit. It is also something you can print on your business cards and stationary.
The problem often is the domain name you want is already taken by someone else. Then you either have to come up with a different domain name, or you can go for something other than .com or .net.
For example, the .WS domain names are
100% Globally Accessible.
99.99% Available.
Instantly & Securely Registered.
Activated for DNS within 24 Hours.
You can easily register a .ws domain at this site.
The advantage of the .ws domain name is that it can be thought of as the acronym for for "web site", and is, therefore, easy to remember.
Making Money
There are two main ways of making money on the web (at least as far as making it using your web site):
Marketing your own products;
Marketing someone else's products.
These are also the two main ways of losing money on the web. That is why so many ".com" businesses have gone out of business recently. (Actually, 94% of Internet marketers lose money.)
The problem is not that these businesses had bad luck. The problem is that they made mistakes. Many mistakes. Serious mistakes.
Yet, some Internet sites make money consistently. Most of them, too, made mistakes. But they learned from them and are now avoiding them. Indeed, many others have avoided the mistakes right at the beginning by simply learning from the mistakes others have made. And that is the best way to go—on the Internet or in any other venture!
Associate Programs
Though the best way to earn money on the Internet is through marketing your own product(s), I will talk about associate programs first. Simply because that is the more popular way. Besides, even if you want to market your own products, you need to understand how associate programs work because you will need to start one of your own.
What is an associate program? Essentially, the idea is to turn a web site into a 24-hour-a-day salesman. The web site tells its visitors about a product, and offers a link. If the visitor clicks through and buys the product, the associate (usually the webmaster of the site) earns a commission.
At least that's the theory.
In reality, with many associate programs all the webmaster earns is brownie points. Few associates earn money. Some (about 1%) make serious money – several thousand dollars a month.
Why such a big difference?
Well, for one, not all associate programs are created equal. Indeed, most of them are designed to make money for the vendor, not the associate. Caveat affiliatus!
I repeat: Most associate programs are designed to make money for the vendor, not the associate.
That brings us to the first rule of being a successful associate: Be picky. Be very picky!
But even with the good associate programs (and they do exist), only a small percentage of associates makes decent money, while most do not.
In this case the cause of the problem is the lack of training. Most associate programs do not train their associates well (actually, most do not train their associates at all). Typically, they offer banners and links. The associate then posts the banners on his site and links them to the vendor's site. And he waits. And waits. And waits.
After a while he starts wondering why he is not making any money. He starts reading about web marketing a bit. He learns that banners have a 1% click-through rate. That is, one out of a hundred visitors will click on the banner. The remaining ninety-nine will not.
Actually, this is an old statistic based on research from the days when banners were relatively new. I suspect no one is publishing any new statistics because web users got immune to banners and ignore them altogether, so the real click-through rate is probably much less than 1% these days.
Anyway, the associate reads the statistics and figures if he places twenty banners on his site, the likelihood of a click-through will increase twentyfold. Then he wonders why no one ever visits his site anymore...
The second rule of being a successful associate is: Do not use banners.
Another reason why so many associates never see a dime is that they join too many associate programs. This is not the same as above when I said you should be picky.
Actually, yes, this is about being picky but for a different reason. Even after you have eliminated the bad associate programs and identified the good ones, you should not participate in them all. Most successful associates participate in only a very small number of associate programs.
This is because a web visitor is not coming to an associate's site to buy something. That is not to say web visitors do not go to web sites to buy something. But when they do, they go to a specific site that does nothing but market the product (or group of products) the prospective buyer is interested in buying. And that is not the associate's site. It is the vendor's site. For example, a web visitor may go to Red Prince Gallery specifically to buy fine art. But the same visitor might be annoyed if an Elvis Presley fan club site kept pressuring him into going to the same gallery.
They come to the associate's site for a different reason: They are looking for information. Not for a sales pitch. Their frame of mind is completely different when they visit an associate's site from when they come to a vendor's site.
If all they see is a sales pitch after sales pitch, they will leave and never come back.
That means you should only participate in associate programs that somehow relate to your site. In other words, do not try to sell toys to the visitors of a baseball oriented site, and do not try to sell baseball bats on a site dedicated to trigonometry. But, by all means, tell the visitors of the baseball site about the baseball bats. And baseball gloves. And baseball training videos.
This brings us to rule number three: Only participate in associate programs that somehow relate to the topic of your site.
All of this may sound discouraging. But discourage you is the last thing I want to do. On the contrary, I want you to become a member of the 1% of webmasters who do make real money in associate programs. Since you have read all the way to here, you obviously want that as well.
I would love to end this section with a long list of resources that will teach you how to become a successful associate. Alas, I cannot: There really is only one such resource. Luckily, this resource is very good.
It is the Associate Masters course. The course takes at least five days to complete. Best of all, you do not have to travel to any school to take it. Nor do you have to pay for it. But you do have to study it, and apply what it teaches you to your web site.
The course is offered by Dr. Ken Evoy. Not surprisingly, he also runs one of the most successful associate programs on the Internet. He created the course for his associates. But he has made it available to anyone who wants it.
To take the course, you need to send blank email to tamsabout@sitesell.net. In reply, you will immediately receive lesson 101 by email. The next day you will receive lesson 202. And so on, for five days. One lesson a day.
I have taken this course twice. It was the best the first time. Or so I thought. But it turned out even better the second time. He keeps improving the course over time. So, you may want to send that blank email now, and then again in a year or so.
And, by the way, I used a unique email address. I always do because I hate getting spam, so if someone sells an address of mine, I can simply block off all email coming to that address. To my pleasant surprise, Dr. Ken Evoy has not sold my email to spammers. So you don't have to worry about that.
You may also want to read Declan Dunn's The Seven Keys to Success for Affiliates. This is a free excerpt from his highly acclaimed book Winning the Affiliate Game: The Ten Step Master Plan For Maximizing Your Profit.
Your Own Product
Nothing can give your web site more income than your own original product. Instead of receiving an associate commission from a vendor, now you are the vendor. You start your associate program and pay a commission to others.
My advice: Treat your associates well. Make it worth their while to be your associates. They are the people who drive traffic to you. They are the people who put money in your bank account.
Here are some ideas of how to build a good associate program:
Be generous. Make the commission large enough to attract associates. One of the largest and most popular (hence, most successful) associate programs pays its associates 60% of net income. Yes, the associates get more from the sale than the vendor.

This is not an uncommon business practice. For example book publishers often sell books to book distributors at 60% off the retail price. They make it up in volume.

So can you. A nice commission attracts good associates. Good associates send you more customers. More customers means more sales. Even if you pay your associates more than yourself, your wealth grows faster than theirs. It is a numbers game.

Let the associates keep their customers. In other words, if a prospective customer comes to your site by clicking on a link at an associate's site, give that customer to the associate even if he does not buy anything.

That customer will either come back later and buy, or he will not. If he does not, well, you lose nothing by having given him to the associates.

But if he does come back and buys, even if this time he comes back directly to your site, it was still the associate who sent him to you originally. That associate deserves to be paid.

Sometimes a customer will come to you several times before he buys, each time from the link of a different associate. In that case, pay the last associate who sent you the customer before the sale.

Customer for life. Once a visitor has made a purchase, you should assign him to the associate for life. Even if he comes back to buy more and comes from a different associate's site.

This is only fair. It takes much more effort to send you a new customer than a repeat customer. The new customer does not know you or your product. He comes to you because he knows the associate and trusts his judgement. The repeat customer has already gained your trust, thanks to the associate who steered him toward you before he made his first purchase.

Hence, the associate deserves to keep this customer for life.

Train your associates. It is amazing how many associate programs spend no effort in teaching their associates how to be a successful associate. Many do not want any hassle when it comes to dealing with associates: They use a third party to sign up associates, to keep track of who sent them a customer, to distribute commissions. These vendors lose big time.

Your associates are your best asset. Treat them well, teach them well. If you don't know how to train them, you have not done your homework: You need to take the Associate Masters course I mentioned above. You need to become an associate of someone else's program. You need to walk in associate shoes, experience the disappointments of being associated with a poorly run program and the satisfaction of being associated with a good program.

Go multi-tier. When it comes to running a successful associate program, adding an additional tier is a must. Your associates will not only bring in customers, they will bring in new associates. What better way to get associates than have other associates refer them to you?

Earlier I cautioned you, and other visitors to this site, to only join good associate programs. But how do you know which associate programs are good? From other associates, naturally. Hence, having associates refer new associates is something you simply cannot do without.

You do not have to go to too many levels, though I know of a good associate program that does, and does so very successfully. (It is Cognigen Networks, Inc. – a company so successful in Internet marketing they are now publicly traded (CGNT). You may want to visit their business opportunity page to see how they work.)

Nevertheless, you need to have at least two levels: associates and subassociates. This will explode your business exponentially. All you have to do is set the program up, find a few initial associates and let them do the rest. An added advantage is that only the best associates will bring in new associates, so you will end up with many good associates who already know what they are doing.

There is another very good reason to go to a tiered program: Associates like it.

Why? Because your typical associate is not some huge web site with millions of hits per day. Quite the contrary. A typical associate runs a small web site with maybe 10-20 hits every day. Building a substantial downline is often much easier for the associate than getting a large customer base. Many associates take more income from their downline than from direct sales. Even if the downline commission is much smaller than direct commission.

But please do not misunderstand me here. I am not talking about MLM which rewards its members for selling to other members. You should not require your associates to bring in subassociates. Only allow it if they so choose.

Offer benefits. Surprisingly, Cognigen is the only associate program that I know of to offer benefits to their associates: Group rates on health, life, and car insurance, as well as investment services.

Since the goal of a typical associate is complete financial independence without having to hold a regular job, such benefits will attract good associates. And it costs you nothing (the associates pay their premiums, you just need to negotiate good rates from an insurance carrier).
I already mentioned Declan Dunn's tips for associates. He also offers The Ten Keys to an Affiliate Program for those who want to start their own associate program. I highly recommend that you read it. It is a free excerpt from his book The Complete, Insider's Guide to Associate & Affiliate Programs.
Obviously, creating a high quality associate program does not happen overnight. One thing you cannot do without is the right software. If you are an experienced programmer, you may write it yourself. Or you may not, because every experienced programmer knows writing quality software is a major task. So you may prefer getting software from someone else.
If you are not a programmer, then you clearly need to get the software from someone else. The question is, who should you get it from. After all, there are many associate program packages offered on the Internet.
The answer is, get it from someone who knows what he is doing. From someone who has run a successful associate program. Someone who started from scratch, had to face and solve all the problems you will be faced with. I suggest you take a look at the AssocTRAC web site, read all the pages it contains, and take it from there. That site is operated by Corey Rudl, a multimillionaire. When it comes to associate programs, you can't go wrong with Corey Rudl. (If you do not know who Corey Rudl is, please read this interview with Corey Rudl.)
What Kind of Product?
The type of product you market on the Internet makes a big difference. The difference between success and failure. Though it is possible to market anything, and it is done, certain types of product are more suitable for Internet marketing than others.
High markup. It is easier to market a product that costs very little to produce but can be sold at substantial profit. By that I do not mean marketing junk. No, the product must be of high quality and worth the money you are asking for it.

It may cost you decent money, or time, or effort (or all of the above) to develop the product. But it should be inexpensive to produce—or reproduce.

The high markup allows you to give your associates and their subassociates a decent commission, while you still make good profit.

Easy delivery. The faster you can get the product to the customer the better. If you can deliver it immediately, that's the best.

The less work it takes to deliver, the better. No need to hire people to package and ship the product. No need to deal with shipping companies. Remember how the economy stumbled when UPS was on strike?

Small is beautiful. The less you spend on warehousing costs, the bigger your profit margin. The bigger your profit margin, the better the commission you can pay your associates and their downline. That means you sell more.

The ideal product involves no warehousing costs altogether.
There is only one type of product that meets all of the above requirements: Digital merchandise. Once you have developed it, you store it on your web server. Once the customer has paid, he can download it instantly. If a million customers want to buy it in a single day, well the million customers can download it. If, on the other hand, months go by with no sale, the goods do not get spoiled.
That brings us to two ideal products for your Internet business: software and information. Both require some effort to develop but can then be reproduced indefinitely.
SOFTWARE: From the olden days of BBS, software has always been marketed online, sometimes successfully, many times not.

The most common way of marketing software online is called shareware. While the original shareware marketer, Jim Button, became a millionaire, most shareware authors never made it.

Because of that, many programmers will say outright that shareware does not work.

Actually, it does work. The problem is not in the concept of shareware. The problem is that so many shareware authors simply write a program, tell people to share it, and expect everyone to register it. Furthermore, many shareware authors do not create a well marketable product. They want to see if shareware marketing works before they commit to it.

Of course, that does not work. The major problem is that a typical programmer knows how to program but has no idea how to market. (I know, I am a programmer, and was that way for a long time.)

Programmers often believe that high quality sells itself. If that is so, then why is Microsoft so wealthy with their inferior software and many quality programmers are broke?

The most important thing shareware programmers need to learn is not how to write software (they already know that) but how to sell. Alas, most programmers will resist this suggestion.

Instead, they will continue flocking together with other programmers in mailing lists and blame Microsoft for their business failure. And as my zen-master likes to say: "Birds that flock together grow the same feather."

Don't get me wrong, I am not a Microsoft fan, but instead of blaming it we need to deal with it. Microsoft sure knows how to market. The only way to beat it is by becoming a better marketer.

INFORMATION: Most successful Internet marketers have made their millions marketing information. Unlike computer programmers, information marketers do not have to deal with ideas people have about shareware. Nor do they have Microsoft to blame for everything.

The beauty of information is that everyone has some information that can be marketed successfully. The sad thing is, most people do not realize how much valuable information they have. If you tell them otherwise, they will give you a very strange look.

That said, I'll tell you straight: You can write a book. No matter who you are, you have enough information for at least one book.

The really nice thing about the web is that it does not matter what your book is about. That is to say, it does not matter who your intended audience is. If you sell it on the web, your audience will find you. It does not matter where you live, nor does it matter where they live. The web brings you together.

It is easier than you think. Plus, help is readily available. Dr. Ken Evoy, the creator of the Associate Masters course, also has an Information Masters course. This, too, is a five-day-by-email course. Simply send blank email to timsabout@sitesell.net, and five days from today you will have enough to start working on your first book.

To publish your book online, you need to convert it to an ebook. The easiest way to do that is by using EbookoMatic. You simply upload your manuscript, convert it to an ebook, and can start selling within minutes.

OTHER PRODUCTS: If you are neither a programmer nor a writer, you can get many ideas for a good product from Marlon Sanders' How to Create Your Own Products In A Flash.
Marketing Your Product
You can come up with the most brilliant idea for a product, you can develop a product that everyone needs, you can write about it on your web site, show it on TV, have your associates talk about it on their web sites. You can get the top ranking on search engines. You can spend hundreds of thousands of dollars on advertising and promotions. You can assure that everyone in the world knows about your product.
But if no one wants it, no one will ever buy it.
That is why 94% of Internet businesses lose money.
The art and science of getting people to do what you want them to do is called marketing. It does not matter whether you want people to buy your product, convert to your religion, or elect you to the Senate, you need to master the principles of marketing.
That means you must read the classics: Sun Tzu's The Art of War and Dale Carnegie's How to Win Friends and Influence People. And yes, I said must rather than should, and no, I don't apologize for being so blunt.
Next, you need to apply the principles learned from the classics to marketing on the web.
In other words, you need to turn the strategies of The Art of War and the techniques of How to Win Friends and Influence People into a web site that does one and only one thing:
Sell Your Product.
We all learn from our mistakes. Doing that involves doing your best to design a web site to market your product and see if it works. Chances are you'll make mistakes and learn from them. If you are persistent, within a couple of years you may start making money on the Internet.
A better method is to learn from the mistakes made by others. Randomly visit various marketing sites. Study them. Since 94% of Internet businesses lose money, you have a 94% chance of finding a marketing site that loses money. Analyze it. What mistakes is it making? What is its ground? Is its strategy appropriate for its ground? (The Art of War.) Is its message self-centered praising its own virtues, or is it customer-oriented addressing your needs? (How to Win Friends and Influence People.)
By far the best method is learning from the masters. He who wants to become a doctor learns from other doctors. He who wants to become a car mechanic learns from other car mechanics. He who wants to become an actor learns from other actors.
He who wants to become a successful Internet marketer, obviously, needs to learn from other successful Internet marketers. He who wants to become a millionaire learns from other millionaires.
Alas, there are no millionaire schools. It is probably because a typical millionaire finds better ways of spending his time than getting a job at a millionaire school. But that does not mean millionaires are not willing to teach.
I have mentioned two very successful Internet marketers before: Corey Rudl and Dr. Ken Evoy.
The first one, Corey Rudl, did it the hard way. He was one of the first Internet marketers, so he had no one to teach him. He made all the mistakes beginning Internet marketers make. They cost him a lot of money. He learned from them and became extremely successful. He makes about million a year. Not too shabby, is it?
Dr. Ken Evoy, on the other hand, got into Internet marketing later. He was able to learn from others before he started. He was able to avoid the mistakes. He became successful very fast.
Both of them are willing to teach others. Naturally, they do not work at a school as salaried teachers. Why should they? They use Internet technology. The same technology they used to become successful they use to help others.
This is good news for both you and me. We can visit their web sites and see how they do it. Both web sites have ample reading available for free. Both also market additional information in the form of various courses. If you are on the budget, just visit their web sites and absorb as much as you can. Then apply it on your own site. Or use their courses for accelerated learning.
Here are some links to their web sites:
Visit these sites and learn from them. Happy marketing!
---
Resources for Web Users
IP Phone
New exciting technology has recently been developed that allows making phone calls over the Internet. Yes, I'm talking about voice calls. Much to the dismay of many phone companies, it is now possible to make free long distance phone calls, or near-free international phone calls from anyone's PC.
While such service has been around for about a year or two, it suffered from many problems because it used the computer sound card and a small microphone. However, inexpensive plug-in cards now exist that allow you to use the regular telephone over the Internet, for the same quality as with straight phone line connection. These cards also allow you to receive phone calls from anyone else while you are using the same line for the Internet.
How does it all work? Find out right here, and read various technical documents. Some are introductory and explain the basic concepts, while others are the data sheet for three of such devices, as well as description of the software that works with them.
NOTE: PCtoPhone lets you call any phone in the USA over the Internet from anywhere in the world FREE. You can sign up for free and start calling within minutes. You don't need the above hardware, though having it will improve the quality of your call. But it is a perfect way to give Internet telephony a try without spending any money. (You need to choose their "prepaid plan" – despite its name, you do not have to prepay if all you want is to call US phone numbers from anywhere in the world.)
Before You Buy on the Web...
The web is a strange place. Recently, I have found a web page that sells what it purports to be an immortality device. The web site contains a message board where people from all over the world seem to be posting serious questions about this device. It goes to show you that if you understand the basics of web marketing strategies, you can make decent money on the Internet even by selling dreams.
At any rate, before you put on that alleged immortality device, you may want to read this little essay of mine:
Be careful what you wish for, or you may get it. Be careful what you wish for, or you may regret it.

Suppose an immortality device actually works, and you use it and become immortal. Irreversibly...

What are your prospects?

Inevitably, you will grow old and frail (think of the knight Indiana Jones found guarding the holy grail). Your immune system will be all worn out, so you'll catch every disease to be caught.

As your medical record grows to fill a room of its own, someone will finally figure out that you cannot die. You will try to hide that fact, but they will find out sooner or later.

Immediately, you will be treasured. What a perfect test subject! They will lock you up and test every new drug on you. After all, what harm is done if you cannot die? After they have destroyed your liver, heart, lungs, kidneys, and the rest of your organs, it will finally dawn on them that they are hurting you after all.

They will apologize, pin a medal on your chest, and let you go.

By then, unfortunately, all your friends will have died, and you will have hard time making new ones. The pace of society will have changed so much, you will not be able to adapt easily.

But adapt you will, eventually. Alas, people will have evolved into a different species: They will become more subtle. They will stop using speech for communication. Perhaps they will develop telepathy and use it exclusively. Will you?

Then, some day, perhaps millions of years from now, mankind will go the way of the dinosaur. You will stay on a planet with no one like you.

Not so, you may be saying. There will be others, others who have also used the immortality device!

Guess what! After a couple of millions of years, you will be avoiding them like a plague. And they will be avoiding you. Besides, there will be no one left to push your rusty wheel chair, no way to recharge the batteries on your nuclear powered one.

But you will adapt. Then, one day, there will be no other life left on the planet. With no food to eat, you will be hungry.

Eventually, all water will have evaporated. Not only will you be hungry, you will be thirsty.

The planet will have turned into a rock. You will be gasping for air, but there will be none.

After the planet has turned into dust, you will be floating weightlessly in the open space. Your muscles will have atrophied from the lack of exercise.

You will be hungry. You will be thristy. You will be suffocating. You will be lonely. You will be bored. And you will never die.

So, once again: Be careful what you wish for, or you may get it.
---
Despite recent advancements in digital photography, pictures rarely come out of the digital camera or scanner in perfect condition. They need to be enhanced in software.
Red Prince Pixie Dust Pro is a versatile Photoshop plug-in to achieve that, and much more.
Written in 100% assembly language, it contains numerous filters for image enhancement, as well as a number of special effects (such as the one shown here). It is fast and efficient, and has minimal memory requirements.
Its features include:
A set of monochrome filters, including an implementation of Rich Franzen's pseudoGray algorithm, which produces up to 1,786 levels of gray instead of just 256. It also lets you set your own color-to-monochrome conversion factors (or use the NTSC and the CIE/HDTV factors automatically).
Increasing or decreasing the saturation of an image, including negative saturation.
Manipulating the contrast of an image in various ways.
Number of transcendental filters (the image shown here is an example of that).
Enhanced versions of solarize, posterize, and contour filters.
Red, green, and blue switch.
And much more...
---
Download Phone Cowboy, completely free software from Whiz Kid Technomagic. It lets you search an Internet–based database and compare long distance rates based on several criteria. Or visit its home page to learn more about this software.
Download Web Search, the original free software from Whiz Kid Technomagic. It contains three programs that allow Windows 95/98/NT users to search the web directly from their desktops.
Download original free Web Marketing Resources software for Windows, compliments of Whiz Kid Technomagic (also included in Web Search above).
Bookstore on your Desktop
Windows 95 (and later) users, you can search for books directly from your desktop. All you need is the My Bookstore software. Not only can you use it to find books, but music, videos, software, and more.
You can download it for free, compliments of Whiz Kid Technomagic.
It is also included in the Web Search software package.
The Special Report Network links you to web sites that offer free special reports on just about every subject you can imagine - making money, success, health, automobiles, forbidden subjects, ufo's, 900#'s, marketing, videos, speaking, news and much much more.
News Desk

Syndicated Articles




Extras




Ad Section


NOTE: You can place your own ads in this section for FREE. They will be accessible from participating web sites all over the world.

Accepting Credit Cards is a must for any e-business. Unfortunately, most merchant account providers do not understand e-commerce. Please read this horror story before you sign on the dotted line. It is a true eye opener that will save you many costly mistakes.

Phone Rates

Rate Comparison
I am so sick and tired of various phone companies calling me every day, trying to make me switch, and claiming that their rates are the lowest, that I had the Phone Cowboy phone rate comparison search engine put together for my own use. Of course, you're welcome to use it, too. (I even wrote the software you can download to search through it from your desktop.)
800 Numbers
Here is a company that offers toll-free (800, 888, 877) numbers for only $2/month, plus 4.5 cents/minute.
TIP: Most long distance companies rent lines from one of the major carriers and resell it to their customers (often for less than the actual carrier). To determine who your carrier is, dial toll free 1-700-555-4141.
Stand-alone 800 numbers
A stand-alone 800 number is one that does not require you to switch a long-distance company. That means you can use it with cell phones, pagers, or various PBX systems (such as college dorms) that do not offer incoming toll-free service and do not let you switch to a long-distance carrier that does. The stand-alone 800 numbers are great for one-person or family-owned web-based businesses.
Follow-me Toll Free Numbers
The follow-me toll free numbers take the idea even further. Not only do you not have to switch your long-distance carrier, the follow-me number can literally follow you everywhere. You can set it to ring to your home phone while you are at home, to your office home while you are in your office, to your cellular phone while you are on the road. Indeed, you can have it ring to any phone number anywhere in the world. That means that US travellers can take their 800 number with them when travelling abroad. It also means that non-US businesses and individuals can now have their own 800 number to attract US and Canadian customers!
Rates to Dominica
The Commonwealth of Dominica is a haven for Internet scams such as StockGeneration and Magic Money Game. The Government of Dominica makes big money off these scams when those scammed make expensive phone calls to Dominica.

Resources

Guide to Webmaster's Resources
Internet Freebies
Photoshop plug-ins
Programming and Technical

Internet Access

SurfBest offers unlimited internet access for just $12.50 per month. However, the redeeming quality of this new service is that SurfBest utilizes the UUNET Internet Network. This means they have over 2,000 POPs in North America – including Canada, Hawaii, Puerto Rico, and Alaska. The cost is $12.50/month – anywhere you live in the USA or Canada.
DSL FAQ Digital Subscriber Line is an always-on Internet connection with speeds of up to 1.5 Mbps (comparable to T1). It is ideal if you need high-speed Internet access and if it is available at your location. It allows you to connect your own server to the Internet, so you can run any number of web sites, process email, have a DNS, etc., from your home or office. Of course, you can also call your own server with a modem (or several modems). So, for example, you could have DSL in your office and connect to the Internet from your home by calling your office computer (effectively serving as your own ISP). This FAQ explains how it works.

Featured Links

Electronics Cowboy


This is a very nice online electronics store that carries just about everything electronic, from computers and home audio, through office furniture, to microwave ovens.

It even has an As seen on TV section!

FilmSFX.com
Putting life on the Moon may be a challenge for the astrophysicist and exobiologist, but certainly not for the film maker with the right tools. Learn how you can do it, too.
Internet News Bureau will submit your press release to over 2,000 journalists. They let you choose from various categories as well as geographical locations. If you wish, they will help you create the copy of your press relase.

Is Your Price Right?

Do you know how to determine the ideal price for marketing on the web? You know, so you get the highest possible profit? Here is the page that explains it all.
How to get listed in Yahoo
I have seen so many messages in various mailing lists for webmasters about the frustration they encounter when they want to be listed on Yahoo.
Perhaps you have experienced similar frustration...
Dr. Ken Evoy describes the exact procedure how to get listed successfully in his book Make Your Site Sell. This chapter of his book appeared in Ralph Wilson's Web Marketing Today newsletter on 1999-03-01.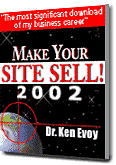 If you missed it, all is not lost: You can download the chapter from Dr. Evoy's web site. Just click here, then click on Book Extracts, and download it. It is in Adobe PDF file format.
Or, of course, you can just buy his book (it is only $25 Canadian, about $17 US).
UPDATE (25 March 2000): Gosh, this man is good! He just started offering a free 5-day course by e-mail today. I know how good he is, so I sent blank email to timsabout@sitesell.net, which is all it takes to subscribe to the course.
I immediately received the first lesson, entitled InfoProduct Masters 101. I printed all five pages on paper and read them. It gave me ideas about what kind of things I can write about to produce and sell an info product online. It also promised I'd be able to do so within 10 days.
I wish he had sent it all to me in one message, but I have to wait till tomorrow for the next lesson. Quite frankly, the suspense is killing me! I'll keep you posted. Of course, if you want, you can request it yourself. Just do what I did: Send a blank email message to timsabout@sitesell.net and check your mail.
ANOTHER UPDATE (29 March 2000): Having studied Ken's course, I finally decided to buy his book yesterday.
I'll tell you straight: I expected a book that was well written, easy to read, and clear to understand. After all, I have read his sample chapters, including the one on how to get listed on Yahoo. But I did not expect to learn anything I did not already know. I mean, I bought and read similar books and courses. And I subscribe to a number of e-zines that discuss web marketing. After all, I run this web site, including its resources for webmasters. But, what the heck, it's only $17, less than I pay for this web site every month.
So, I expected a very good book, but one that rehashes things I already know quite intimately.
Boy, what a blow to my ego!
Yes, the other books and courses, and e-zines, etc, while excellent resources, all say pretty much the same "stuff." But Ken's book just blew my mind. As I said, I bought it yesterday. I fully expected to write a review an hour or two later, and then let it sit on my hard disk.
Not so! I spent all of yesterday reading it until I was so tired I could no longer concetrate. And the first thing this morning, I went back and continued reading. You see, this book is big. And it comes with several extra books, all in one package. And it is not only well written, it contains tons of information I never saw anywhere else, nor have I thought of on my own.
Ken has done his homework. The homework of an over-achieving A+ student. And I am not just talking research. After all, the other books and courses are well researched, too. Nor am I "just" talking experience. All authors I mention on this site have cut their teeth on web marketing strategies by doing it, making mistakes, learning from them, and teaching others.
Of course, Ken has done all that. That is quite obvious even after having read the sample chapters. But Ken has done more. Much more. Something I cannot even describe. He thought it all through. I mean all of it. Every single detail. And he says it all, too. He is not trying to get you to buy his $17 book just to tell you to buy another, much more expensive book. No, this book is complete.
To say that Ken delivers would be the understatement of the Century. Ken overdelivers.
In these two days I have learned more about selling on the web than in all the time since I started this resource center. And I will continue to learn because I sure cannot absorb all the material by reading the book cover to cover in two days.
But I am certainly not going to stop there. I am going to put it in practice. Not on this site. This site is strictly my resource center. I do not sell here. But I have other sites. And these will sell, I'm sure of it, thanks to Ken.
If you wish to take a look at it yourself, just click here. You'll be glad you did.
Redhead Talk
In case you wonder what I look like, I am 6'4" tall and a redhead. If you are a redhead, or a redhead fan, or if you want to see a picture of one (me), visit the Whiz Kid Technomagic Redhead Talk page.
For another picture of me, and an entire web site dedicated to redhead issues, visit Red Prince' Castle.
---
Copyright &copy 1998 - 2002 Whiz Kid Technomagic
All rights reserved
phone: 715-362-WKTM (+1 715 362-9586)
Whiz Kid Technomagic
27 E Phillip St
Rhinelander, WI 54501-3127
USA